Content of the article
The hottest custom car in Windsor is a 1973 Toyota Celica
Content of the article
The heavily modified retro-racer was crowned the local winner of the Hot Wheels Legends Tour event in Windsor last Saturday.
The car advances to the next round of the Hot Wheels contest, which means it has a chance to be immortalized as an official Hot Wheels die-cast toy.
"I really didn't expect it," said Kevin Huth of Windsor, owner and builder of the vehicle. "There are a lot of cool cars (here), so it's quite exciting."
Huth found the 1973 Celica through a Craigslist ad placed by a seller in Washington State.
Once the vehicle arrived in Windsor, Huth undertook a major rebuild – starting with the powertrain, which he completely overhauled to support a new 500-hp 5.7L Chevy LS1 V8 engine.
Huth also added a Nissan 370Z transmission, the 8.8-inch rear axle from a Ford Explorer, a hydraulic handbrake, a four-point racing harness and a custom plaid interior.
Content of the article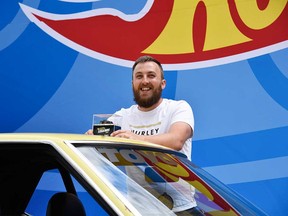 About the only thing Huth didn't change and improve on his "Tokyo Trans Am" was the stock paint job.
The Hot Wheels Legends Tour of Windsor event, which took place in the parking lot of Walmart Supercentre East End on Saturday, was the only Canadian stop on the North American tour.
Organizers originally planned for the show to have 113 seats, but local response prompted them to expand the field to 250 cars.
Hundreds of car enthusiasts of all ages attended.
Imperial Oil marketing adviser Winnie Lai (the event was co-sponsored by Mobil1) described Saturday's turnout as "overwhelming".
"Windsor has been a great market for this competition. Just a good step," Lai said.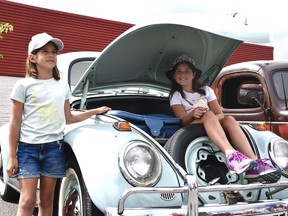 Philip Riehlman, a Hot Wheels designer and one of the judges on Saturday, said picking a winner was tough. "It was a very difficult choice because there are a lot of very cool builds, a lot of variety."
Content of the article
The wide range of vehicles on display on Saturday ranged from modern sports cars to restored classic models.
Among the more unique offerings: a rebuilt 1930 Ford Model A milk truck – complete with cow horn.
LaSalle resident Bob Burden impressed with his 1937 Ford coupe inspired by Hot Wheels designs. "Everyone who looks at this car smiles, and that's why I'm building them," Burden said.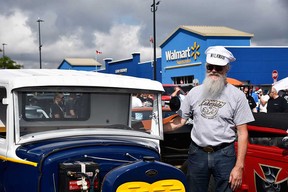 Riehlman said creativity and authenticity were among the criteria that ultimately allowed Huth's Toyota Celica to be selected as the winner.
"Something you look at and you're like, 'That's Hot Wheels,'" Riehlman said.
On Saturday, honorable mentions went to a 1948 "gasser" (the term given to high-end vintage drag racing cars) and "Dragula 2.0" – a car built by students from Kingsville District High School.